Top Cardiologist from San Raffaele Hospital, Milan visits Bon Secours Hospital, Cork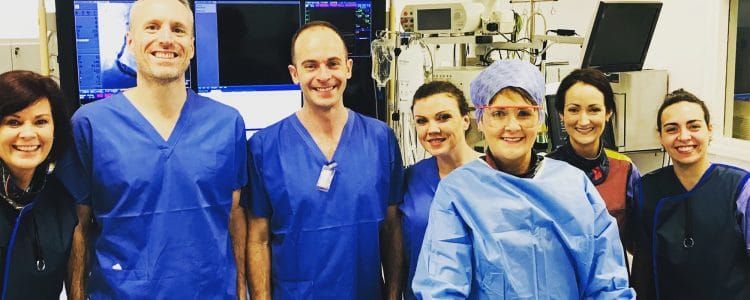 Dr Lorenzo Azzalini MD, PhD is a rising star in the latest techniques in treating chronic total occlusions (CTOs) of coronary arteries. CTOs are complete (100%) blockages of coronary arteries that have been present for >3 months and in some cases the blockages may have been present for decades.
CTOs are an increasing problem in an aging population and standard procedural techniques are sometimes not enough to open these complex occlusions. CTOs are especially common in patients who had previous heart bypass surgery (coronary artery bypass grafting) with vein grafts. Often the native vessels occlude once they have been bypassed and subsequently the vein graft may also occlude. In such situations, patients may become quite symptomatic with chest tightness on exertion and shortness of breath and the only solution may be either a second heart bypass if medications are unable to resolve the patients symptoms. However, many elderly patients are too high risk to have a second major heart operation.
Thankfully, owing to technological advancements and interventional cardiology techniques, there are now novel, minimally invasive options to treat CTOs. These procedures tend to be more complex and take longer than standard stenting procedures. However, they can save patients from having to undergo a potentially high risk first, second or even third heart bypass operation or having to take many medications.
Dr Azzalini spent 2 days at the Bon Secours Hospital, Cork demonstrating the latest CTO techniques.
About Dr Lorenzo Azzalini MD PhD
Dr Lorenzo Azzalini comes from Venice, Italy and trained in cardiology in Barcelona for 5 years, and then at the Montreal Heart Institute in interventional cardiology for 2 years. He now works as a Consultant Interventional Cardiologist at San Raffele Hospital, Milan, and leads the CTO program together with world expert Dr. Mauro Carlino. Dr Azzalini has published many papers on CTO techniques and is considered one of the worlds leading experts in this area.